Closer to the Moon, starring Mark Strong and the excellent Vera Farmiga is the new film written and directed by Romanian, Nae Carafil. Set in in Bucharest in the late 1950's it follows the true story of a group of Jewish ex-resistance members who plan and execute a bank robbery from the National Bank of Romania, making it look like they are shooting a film.
Local waiter Virgil (Harry Lloyd, last seen in the Theory of Everything) becomes so enthralled with watching the 'film shoot' he later happens upon a chance to work for the alcoholic film director Flaviu (Allan Corduner). In the truth is stranger than fiction element we see Flaviu and Virgil signed up to make a film about the robbery, so the communist party can use it as a propaganda tool to deter any future dissidents. In a bizarre twist the real criminals who are now incarcerated and awaiting trial are forced to reenact their parts.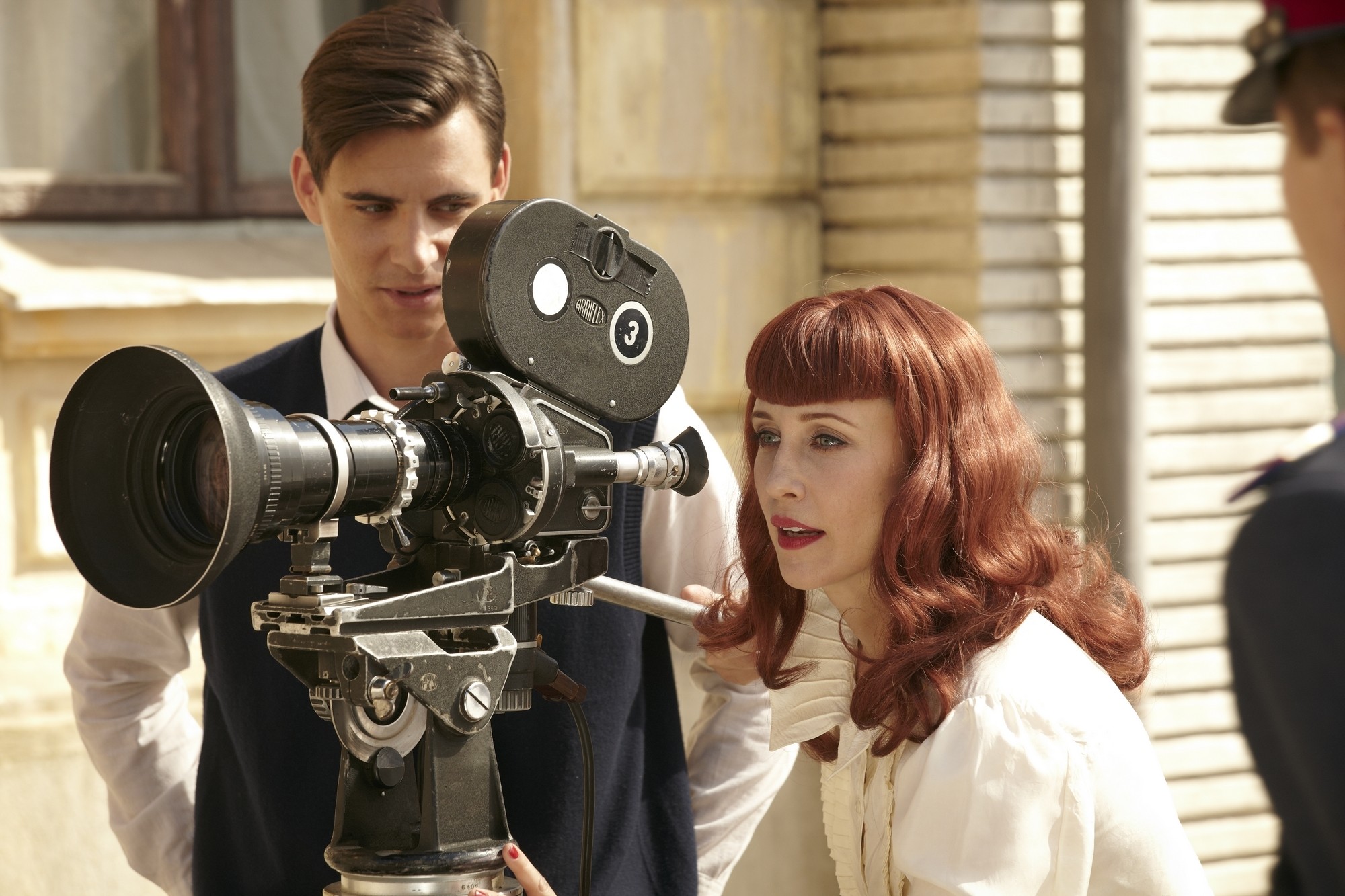 This provides a welcome respite from prison life, and along the way we learn about what led them to commit the crime. Alice (Vera Farmiga, channeling a very 'Kristen Scott Thomas' clipped British accent) is the political scientist and single mother, who reluctantly joins in due to her complicated past with ringleader Max (Mark Strong).
The decision to do the movie in English, with a mainly English cast was obviously done to reach a wider audience, however I felt it detracts from the authenticity of the story. With a budget of $5m this is the most expensive Romanian film ever made, and those used to the slow arthouse films that have been coming out of the country over past years will be disappointed with the very English feel. On the plus side the story is told in a comedic way, giving it at times a lighthearted feel. One of my favourite characters in the film is the elderly Jewish man Moritz ( David de Keyser) who Virgil (Harry Lloyd) boards with. He brings a real charm to the story, I liked the way he listens to the static filled symphonies on the Voice of American radio station, rather than the clearer 'communist' station. The late 50's in Romania was a time of growing disillusionment for many of the Jewish Communist party members as anti-Semitic feeling grew.
I am glad the story has been brought to the big screen, make sure you stick around for the final credits which add further insight to the real events.
Out on Friday 20th at Cinemas around the UK.